Are coffee pods one size fits all coffee makers?
---
First I should say that the definition of "Coffee Pod" varies. A traditional coffee pod is a very simple round paper pouch filled with fresh ground coffee. What makes things confusing is that Keurig® recently renamed their K-cup® capsule a "K-cup® Pod". For the sake of this discussion we are reffering to paper coffee pods and not K-cups®.

When coffee pods were introduced in the late 90's early 2000's, there was not a standard size. Manufacturers produced pods in many various sizes, usually to fit a specific brewer, which made finding compatible pods confusing for the consumer. Today, most coffee pods are standard at approximately 61 millimeters in diameter, but may vary in weight between 8 - 12 grams of coffee in each pod. These pods are designed to be used in a pressurized brewer and will typically produce a bold cup of coffee in a short time. The light weight pods are called "Soft Pods" and contain only 7 or 8 grams of coffee and are loose (not packed tight) that allows the water to pass through the pod easily over extended time which is ideal for gravity drip brewers. The Bunn MCP & MCU and BevBar brewers are examples of pressurized brewers. The Cuisinart is an example of a gravity brewer.
Want to try out coffee pods for yourself? Take a look at our wide variety of coffee pods. We carry over 100 varieties from popular roasters:
Baronet Coffee
Cuisinart
Melitta
Organa Tea Pods
Reunion Island Coffee
White Bear Coffee
Wolfgang Puck
What are "Soft" Coffee Pods?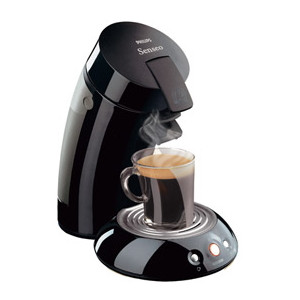 Soft pods were originally designed for compatibility with the Senseo pod brewers. The first soft pods were produced by Senseo and designed for their own branded brewer that had a small pod chamber.
Soft pods are lighter in weight (about 7 grams of coffee) than most modern pods and are obviously soft, or kind of squishy. This allows them to be pressed into the small pod chamber. Other coffee roasters that were producing standard size pods at the time like Baronet and Melitta began also producing "Senseo compatible" soft pods that also worked well in that brewer.
Over time it was realized that these soft pods also worked better in gravity or drip style pod brewers because the loose grounds and longer brew times allowed for a better extraction in these brewers.
Soft pods will produce a weaker cup of coffee in most pressurized brewers because there is less coffee in each pod and the brew time of these brewers is quite fast.
Here is a list of the coffee brewers that are compatible with universal soft pods:
Cuisinart Single Serve Pod Coffee Brewer
Hamilton Beach 2-Way Brewer
Hamilton Beach FlexBrew 1-cup Coffee Maker
Hamilton Beach Personal Cup
Hamilton Beach Stay or Go Personal Cup
Senseo Pod Brewer
Are coffee pods reusable?
Generally, coffee pods are NOT reusable. Coffee pods are like using scoopable coffee grounds except without the mess. The only way coffee pods are reusable is if you buy specially marked coffee pods that specifically state they are reusable.
Be sure to check out our selection of universal soft pods!
K-Cups
Are K-cups the same as Pods?
No K-cups and Coffee Pods are NOT the same and are NOT interchangeable. K-cups are specifically designed to be used in the Keurig single cup coffee maker only. Keurig has recently changed the name of their "K-CUP" to "K-CUP PODS" but they are very different than actual paper coffee pods. Standard coffee pods look like a round sealed pouch made of filter paper that is filled with coffee. Pods are used in brewers like the Bunn My Cafe MCU / MCP.
Are K-Cups reusable?
While it is not recommended, K-Cups can technically be reused. However, every time you reuse a K-Cup, the flavor of your coffee will be even more diminished. To avoid a stale or sour tasting cup of coffee, only use a K-Cup one time.
Need to replenish your stash of K-Cups? Take a look at our wide selection of K-Cups!
How much coffee does one K-Cup make?
Keurig coffee brewing systems generally allow you to make three different sizes of coffee: 6 oz., 8 oz., and 10 oz. For any of these settings, the use of only one K-Cup is required. This means that you can make any of these perfectly sized cups of coffee with the use of only one precious K-Cup!
Want to try out K-Cups for yourself? Check out our wide selection of K-Cups today!