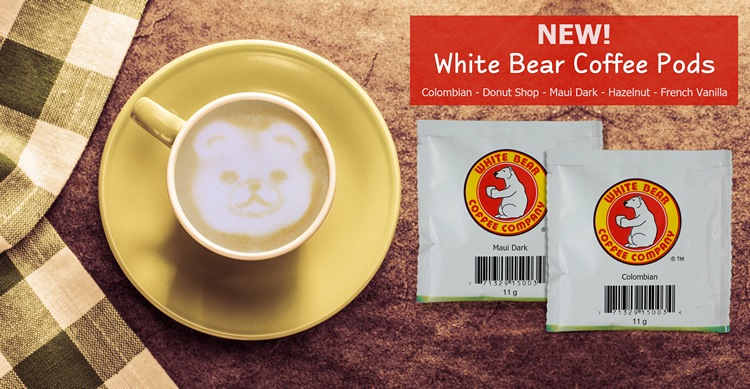 White Bear 11 gram coffee pods - great taste and environmentally friendly
by Jimmy C • October 02, 2018
---
We are excited to announce the latest addition to our line of single cup coffee pods from White Bear Coffee. White Bear pods are made from premium 100% Arabica coffee beans for a rich smooth cup every time. Instead of the standard 9 or 10 grams of coffee that most pods contain, each White Bear pod contains 11 grams of ground coffee for a bolder flavor profile. Another great feature of White Bear pods is that they are environmentally friendly. The pods themselves are compostable and even the packaging is fully biodegradable.
Currently available coffees include: Colombian, Donut Shop, Maui Dark, Hazelnut and French Vanilla.
Coffee Pods differ from K-cups and are not compatible with brewers like Keurig. Coffee pods are made out of filter paper and look similar to a round tea bag that is filled with ground coffee. In order to use pods you need a coffee maker designed for brewing coffee pods like the Bunn My Cafe MCU or Bunn My Cafe MCP for residential use or the Newco Freshcup , Newco CX-Touch or Bunn My Cafe AP for commercial use.
---